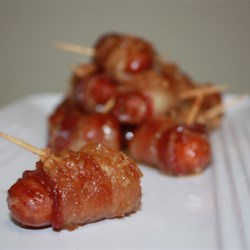 Easiest appetizer ever!
1 pound bacon (each slice cut into fourths)
14 ounce pkg of beef cocktail wieners (or more)
3/4 c brown sugar
Preheat oven to 325 degrees

Wrap wieners with quarter slices of bacon.

Secure with toothpicks

Place on a baking sheet lined with parchment (foil/silicone baking mat)

Sprinkle brown sugar over each

Bake for 40 minutes util the bacon is cooked and sugar is bubbly.

Serve immediately or place wieners in a slow cooker and keep on the low setting.
The original recipe said to cut the bacon in thirds, but it was very easy to stretch a quarter slice around.