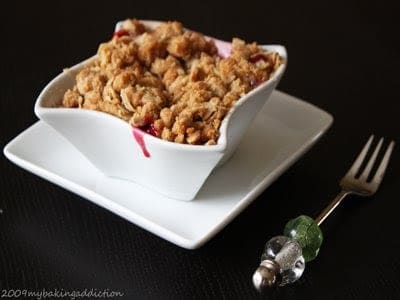 FOR THE CRISP TOPPING
1/2 cup quick cooking oats
1/2 cup plus 2 tablespoons all-purpose flour, divided
1/8 teaspoon baking powder
1/8 teaspoon baking soda
1/2 cup brown sugar, packed
1/4 cup butter, melted
FOR THE FILLING
2 cups pitted cherries
1/2 cup granulated sugar
Directions:
Preheat oven to 350°F.
Spray four ramekins with non-stick cooking spray.
Combine oats, 1/2 cup all-purpose flour, baking powder and baking soda together in a medium bowl. Whisk together well to evenly combine.
Add brown sugar and melted butter to the flour mixture and mix well to form a clumpy dough. Set aside.
In another bowl combine pitted cherries, granulated sugar and 2 tablespoons all-purpose flour. Mix well so the cherries are coated with the flour and sugar. Divide them between the four sprayed ramekins.
Cover cherries with crisp topping, dividing it evenly between the four ramekins.
Bake for 30-35 minutes, until crisp topping is golden brown.
Notes:
You can easily double this recipe and prepare in one 9"x13" baking dish.
NOTES:
Easiest dessert ever AND quite delicious served warm with a little ice cream.
I made it as directed except I added a few blueberries to get more fruit.
I baked it in a 9x9 pan instead of ramekins.